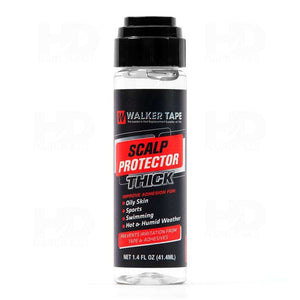 Walker Scalp Protector Thick Dab-on Scalp Protector, 1.4 ounces
Walker's new THICK formula is a scalp protector with serious moxie! It lasts for upwards of two weeks in hot and humid environments, so start packing for that waterskiing trip you've been planning!
It's tough to keep a lasting hair system bond when you've got oily skin. It's even tougher if you live or work in a hot, humid environment, or have an active lifestyle. Walker's THICK has got you covered! Your bond will stay strong no matter how sweaty you get, whatever kind of skin you're working with. It's even great for water sports!
That's all pretty impressive, but Scalp Protector THICK does even more than improve your bond: Its main job is to form a barrier to protect your skin from harsh tapes and glues.
Walker's convenient 1.4 oz dab-on bottle makes it easy to apply this beefy protector exactly where you want it.
Planning to get sweaty, but still want your bond to last for a while? Get an extra shot of protection, comfort and confidence with Walker Scalp Protector THICK!